Local Spotlight: Sundance Volunteer Carol Dalton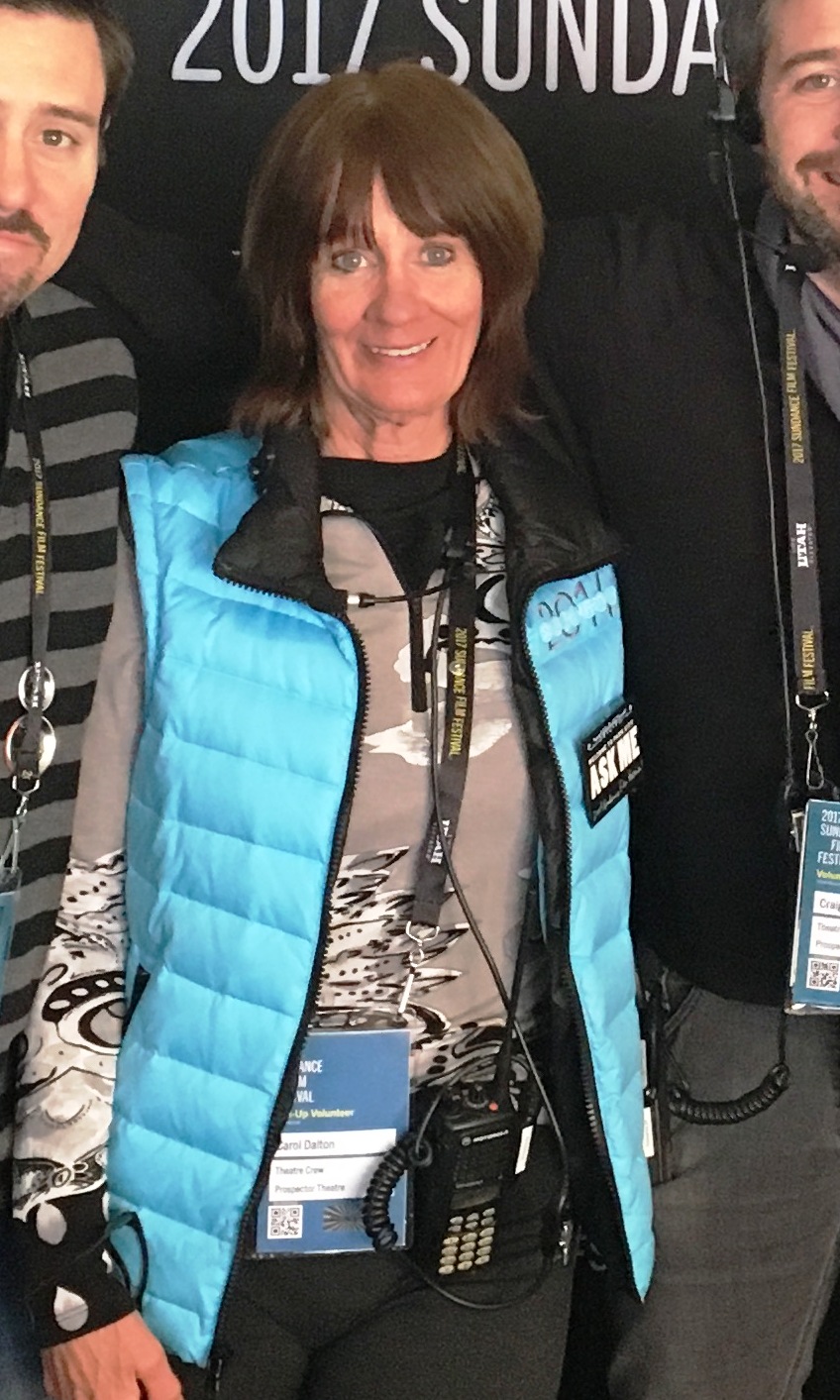 Sundance Film Festival would not run like a well-oiled machine without a legion of volunteers, many of them local.
Carol Dalton, a Parkite who loves attending the festival, has been volunteering for over 20 years. "Friends were doing it and I've been a fan of independent films since my teens. Ever the rebel, my teenage friends and I saw Clockwork Orange, Deep Throat and Reefer Madness. I was hooked!"
Carol works the minimum of 24 hours, which she breaks into 4, six hour shifts. There are some perks to being a volunteer. Carol explained "We get film vouchers, 1 for every 4 hours worked and often see films while working. We get some swag, including a cool jacket but best of all is the friends we make from all over the world!"
Carol's list of "close encounters of the star kind" is long. Al and Tipper Gore interacting with staff and crowd after premiering An Inconvenient Truth. She met Robin Williams, who was so sweet about taking photos with fans. Jake and Maggie Gyllenhaal were as easily accessible as low-budget actors, Carol reminisced about how rewarding it was to watch them blossom. Zooey Deschanel catapulted from Sundance beginnings to big time fame. Patrick Swayze attended with his wife shortly before he died, being so genuine and friendly. Roger Ebert, Tammy Faye Baker, and on and on. "Now that the Festival is larger, more structured and security oriented, it isn't as easy to hobnob with the big names" notes Carol.
For Carol, Sundance is not all about the big stars. "As time rolls on, I care less about the big name stars and more about the unknown films. It's so exciting to be in a theater, when the audience is clearly moved and gives a standing ovation."
Documentaries seem to provide her most moving experiences. "Any documentary having to do with abusing wildlife brings me to tears. The Cove (2009) was very emotional, exposing the annual slaughter of over 20,000 dolphins and porpoises off the Japanese coast. Blackfish (2013) which traces the history of killer whales in captivity and leads up to the 2010 killing of a Seaworld trainer was also incredibly moving. Thankfully, these films have had such an impact, they have made changes."
Carol's story is a wonderful example of how volunteering can bring happiness, fulfillment, new friends, and new experiences. We are lucky to have such amazing volunteers in our community!